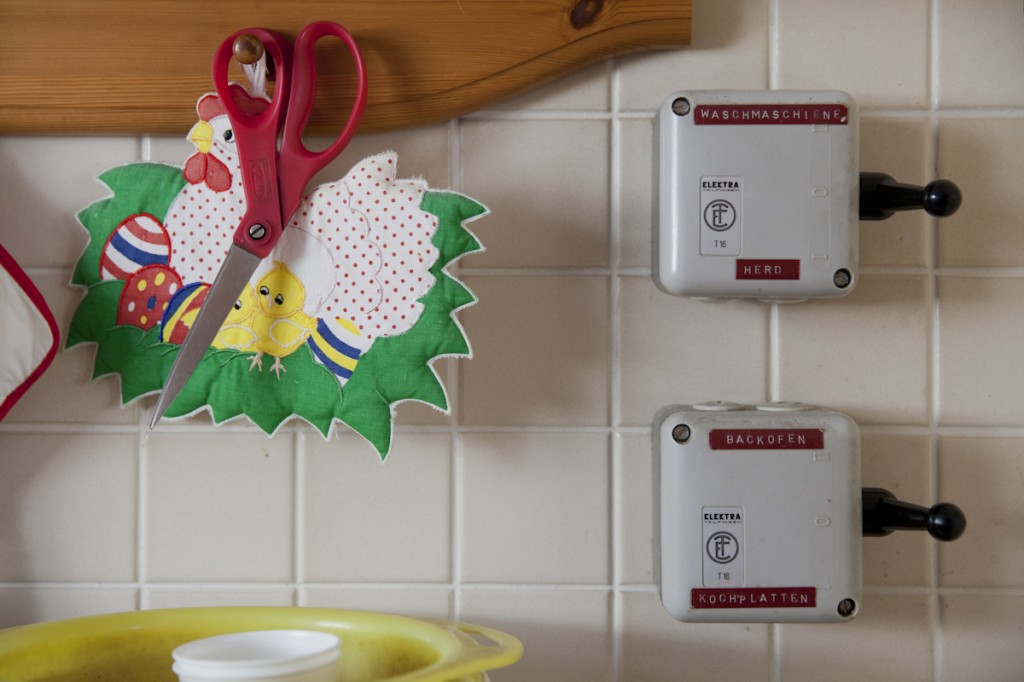 Interview with Dr. Georg Löser, Gundelfingen im Breisgau
How did you experience the beginnings of the energy transition here in the Freiburg area?
My name is George Löser, am a physicist and biologist, nowadays actually an independent energy ecologist. I got to know the energy issue because of the resistance against the nuclear power plant in Wyhl. That was in 1974. Before that there was already the equally successful fight against the nuclear power plant in Breisach, where I also participated a little as a student. Most pioneers here in the Freiburg region who were and are involved with the energy transition began at that time, in the 1970s.
For example in 1976 the first solar power plants have been installed around the Kaiserstuhl and in Breisgau especially by a craftsmen named Mildebrath in Sasbach/Kaiserstuhl. That were solar collectors with that were used to provide heat. And in 1976 on Ascension Day, we hosted the first "solar energy days" in Sasbach with the precursor organization BUND (German association for environment and nature conservation) and the anti-nuclear citizens' initiatives. For three years this event took place in Sasbach until it got much too large and was held in Freiburg, Konstanz, Stuttgart and Mannheim.
One day when my family grew, we got the opportunity to build an energy-saving and solar house here in Gundelfingen. The model was actually the "Ökostation" (ecological station Freiburg), which was built a year earlier off-grid with a solar power system and small combined heat and power unit. I co-supervised the technology in the Ökostation and so I developed the with to live nuclear-free and without a connection to the grid.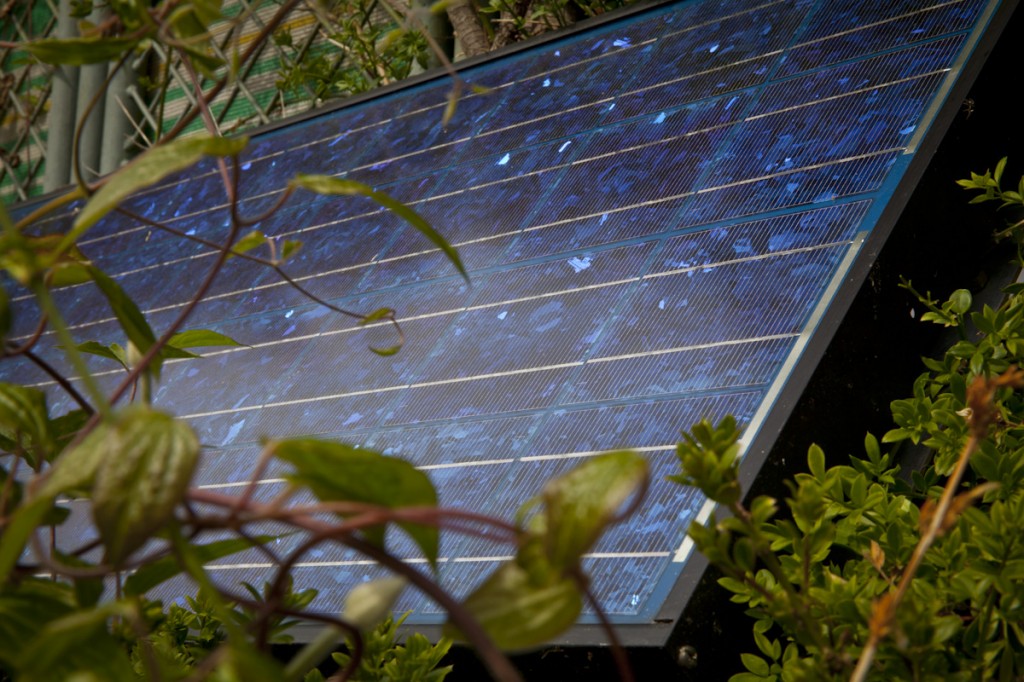 That means you have to look at where the power comes from. The idea was, of course, to save as much power as possible and we have managed that. Compared to normal households we consume 80% less here, we only use about 500, 600 to 800 kilowatt hours per year. That was already possible back then even though we have a washing machine and we cook with electricity. The washing machine is connected to the hot water of the solar heating system, so that it need almost no extra power. The lighting was already almost entirely energy-saving lights. With further action it was possible, to practically get along with electricity and heat from 100 percent solar energy for a good six months, with a small solar power system of that time only 500 watts, later 1000 Watts, with batteries in the basement and a solar heating system.
But it was necessary for the winter months to have a small combined heat and power unit which was already installed in 1987 in pioneering design. This small combined heat and power unit provides heat and electricity in winter by running 1 to 5 hours per day. We made sure that we have an energy-efficient house and also conserve the heat. That means we have better insulation especially for the roof and for the windows. We already had two-pane thermal windows throughout the house that only loose half as much heat as normal two-pane windows, which also is a passive use of solar energy. So we were able to reduce the energy consumption for heat and the solar thermal system, including storage and the small combined heat and power unit fit well together. With a small solar power system and the small combined heat and power unit the energy supply in the house is fairly well balanced throughout the year. The small combined heat and power unit still uses fuel oil. We have been looking for something better for a long time. Vegetable oil would have been an alternative, but is much more difficult to handle and we are still waiting to be able to produce hydrogen with our solar power surplus in the summer, so we can store it and then can enter into in a small fuel cell power plant. That would be ideal. Maybe this will become possible in the next few years.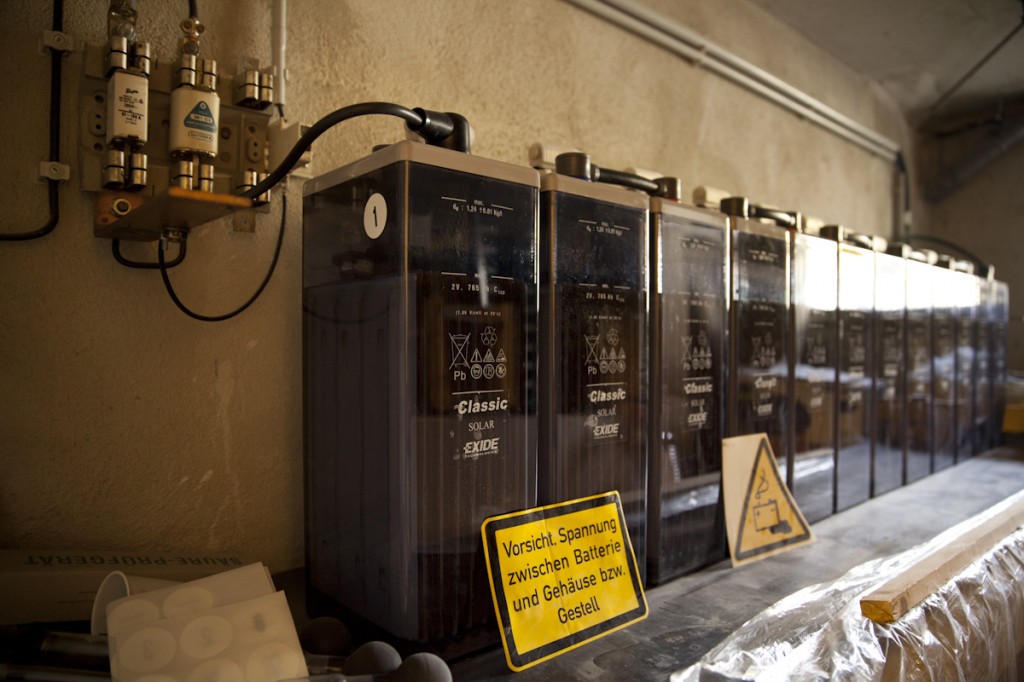 I have to mention that of course there was much more going on in Freiburg and the region. As a result of Wyhl the Öko-Institut in Freiburg was founded, which published the books "the energy transition 1" in 1979/80 and "the energy transition 2" in 1985. The BUND grew strongly in Freiburg and the region. I was employed there for 22 years for energy and also volunteered to lead the federal working group of BUND for many years.
There were and are many friends who continue to work here in the region for the energy transition. In the city of Freiburg unfortunately, the possibilities are limited, except for solar energy, because there is little hydroelectric potential and little wind in the urban area itself. But the region has also done a lot. I would like to underline that the work the most dedicated people here has an effect influences people all over Germany, sometimes throughout Europe and many groups of international guests carry the idea of the solar region Freiburg throughout the world. There is for example the "Quartier Vauban", the former military barracks that were converted into a model eco-building area, and over on the other side of the street there is the famous "Solarsiedlung" (solar settlement) of Freiburg, which was built in the years around 2000 and continues to be the leader in the solar settlements. This settlement is also a plus energy settlement that generates more primary energy than the people living there consume for heating and electricity.
If you compare your 1987 pioneer home with what is possible now do you wish to have a new house?
No. We enjoy living here, it stood the test of time and we have had little difficulties in the last 26 years. All the technologies have proved their worth. Maintenance is of course always necessary with the batteries and the small cogeneration unit. We have grapevines growing on the walls of the house for more "solar energy" and many fruit trees so that we have fruits and vegetables and we can live for six months about 100 percent from our own kitchen garden. The vines grow up the house, so birds and other animals are happy too. We try with this house, which stands on the site of a former plant nursery to continue their tradition in the best sense that means without poison. Here close to the edge of the forest nature comes right to the dining room's window in winter – we call it "bird cinema", many birds come to find food here.
What would you like to develop further?
Well, we don't have a plus-energy-house, our house is a six to seven months energy self-sufficient, energy-saving solar house and five to six months per year we need a little bit of oil. At the point I want to continue working. We have had many followers, for example the energy self-sufficient solar house in Freiburg, which was built a few years later by the Fraunhofer Institute in Freiburg, for a test of two years. Later it was operated differently. People came here to look around how we do this because we have no connection to the electricity grid and no gas.
That means, it wasn't you who took the researchers as a role-model, but the renewable energy researches have copied from you?
Well, you could say that, apart from the prior experience I gained in the Ökostation Freiburg, indeed. They have developed it further. Almost all the solar pioneers of the region, who later did more than we could do at that time have been here, they looked at it closely and we gave a lot of tours of the house. They made something better, it has to evolve and that is beautiful and good. We would want to replace fuel oil in the next few years, the fuel oil, I'd like to exchange the diesel-powered combined heat and power unit for a fuel cell cogeneration plant. We have to hope that the new fuel cell mini cogeneration plants are durable enough. This was not yet the case and so we just have to wait until the have proven themselves for ten years.
Does your pioneer home only have an influence on researchers or also on your neighbours?
Well, that's the problem when your a pioneer. We were very far ahead. There was no passive house in 1987. The passive houses only started in 1991. Therefore, we have not become a plus energy house. If you are so far ahead, it is difficult with the neighbours. Now of course there are a lot of solar power systems, not on direct neighbours' roofs, but in the next streets. It was observed in Freiburg too that the solar settlement with the plus-energy houses was not copied at first. It took about ten years until the other the architects dared to approach the ideas of ​​Rolf Disch and began to build plus-energy houses as well. Yes, that takes time unfortunately. It is a pity that it does not go much faster. And that's why we must be careful that the energy transition is not slowed down now by the federal government, but that is further supported by the citizens who carry on the impulse that we want to achieve something.
What do you think is promoting the energy transition and what it slows down?
It is primarily the commitment of citizens in connection with the EEG (Renewable Energy Law) the way it previously granted priority to renewable energies, that bring the energy transition ahead, because it made it financially more worthwhile to invest in renewable energies. It did not yet pay off from the financial point of view when we started. But from today's perspective because energy prices are so much higher now, it has certainly paid off. We don't pay so electricity fees, no monthly fees for the grid and we have relatively low energy costs. The ecological energy transition is slowed down by the "old" energy companies and their allies in politics, in the government departments, in some institutions and in some media companies.
What are you most proud of?
We are really very proud that we have dared at the time to live without a connection to the electricity grid and without gas and all the years since then we have been living at least half a year 100 percent renewable energies. We are certainly proud of that because it has proven itself.