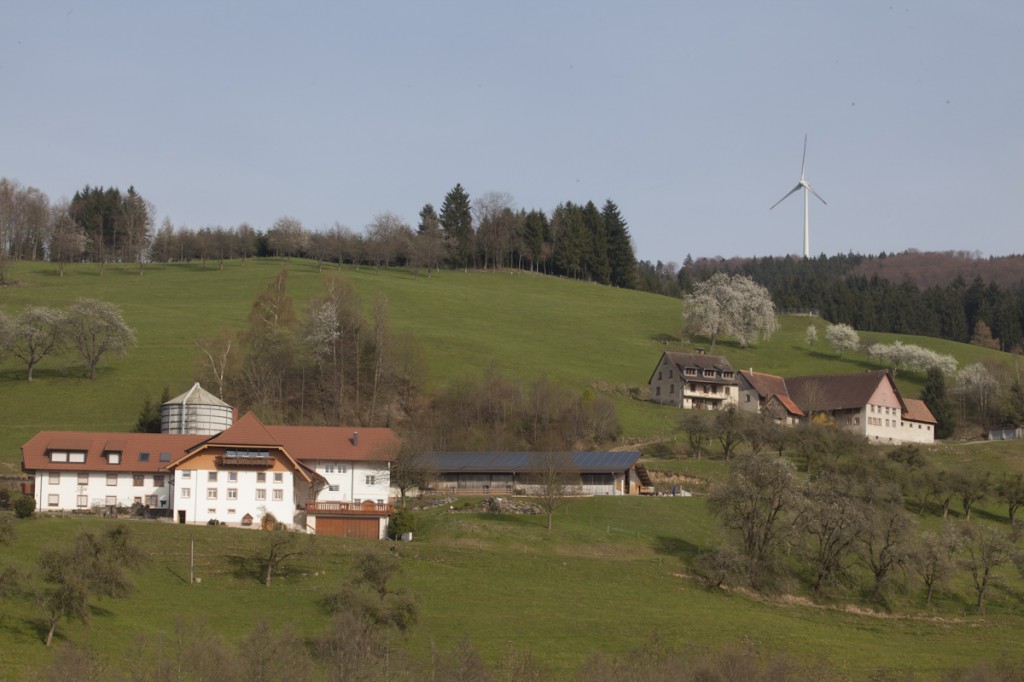 Interview with Hannelore Reinbold-Mench, mayor of Freiamt
My name is Hannelore Reinbold-Mench, since 2001 I'm the mayor of the municipality of Freiamt and before that I was a member of the council here in our community. So I know the story of the renewable energies from its very beginning.
Can you give me a brief summary of all the types of renewable energy sources that people have here in Freiamt?
There is almost everything. Of course the wind power is dominant here in Freiamt. We have wind power since 2001. We have five windmills, the sixth is currently in construction. Next considering the amount of power generation is photovoltaics. We have approximately 270 roofs of our farms and private buildings with photovoltaic systems, ranging from five kilowatt peak to more than 100 kilowatt peak. The large roofs of the Black Forest farm are quite suitable for solar energy of course. The third powerful factor in electricity production is biomass. We have two biogas plants, which together have an output of about 450 kilowatts of electricity. And then we also have a tiny bit of hydropower. That's only about 80 kW of power. For heat generation of course wood is dominant, mostly wood chips, but also some use logs and pellets are especially used for the smaller houses in the settlements. There is also district heating from the biogas plant supplying some residential units, our school and our indoor swimming pool with heat. In addition there are many private home owners who use superficial geothermal energy. There is air-heat-pumps and also some use of groundwater. Actually everything you can think of is known to us as an energy source.
How did it develop that such a small community is so well positioned?
Well in retrospect, that makes you wonder of course. The idea came from wind power. The idea came from outside when investors showed up here in our community and wanted to rent the windiest places on the ridges of our municipality. That brought farmers to the conclusion that if there is such a hurry for the lease contract and if they offer us a lot of money for a small area, then it seems that you can make money from that and why should this money go to Hamburg, Berlin or Cologne? We can do that ourselves and so they have teamed up and founded an association with the goal to build wind turbines. This then led to great momentum with a lot of creativity from the individual citizens and also a competition among each other, especially in photovoltaics. All solar systems are indeed in private hands. When farmer Müller saw that the farmer Mayer gets a solar system on the roof, then Müller said himself I need one too. Some month we could not look around fast enough to see all the solar systems emerging on the roofs.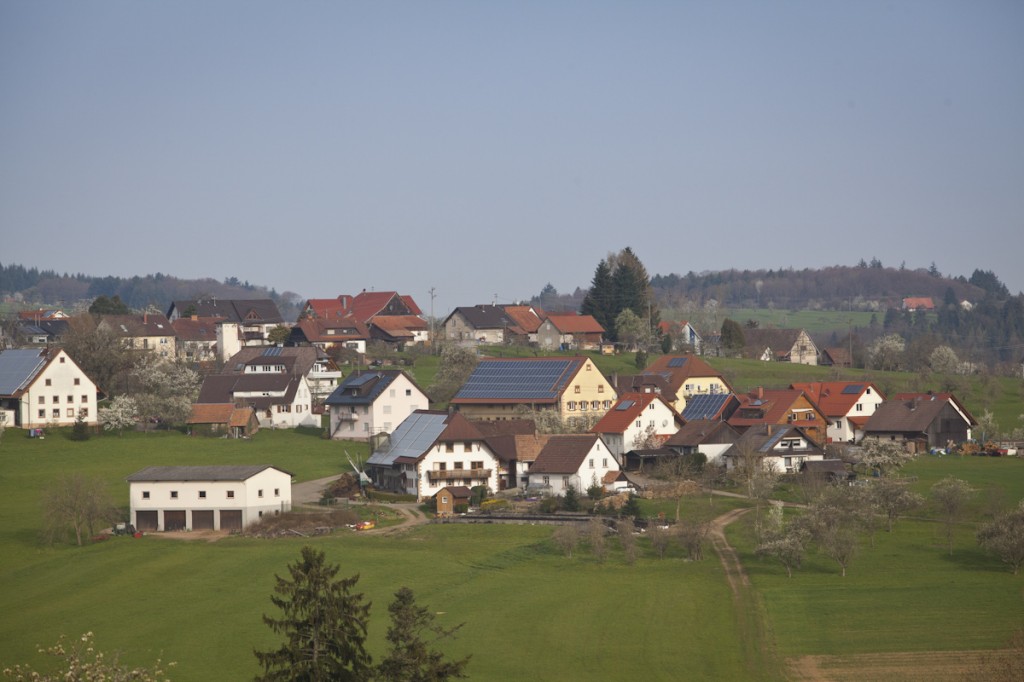 In most places, there are proponents for and opponents against the wind turbines and a long discussion before anything can be built. What is different in Freiamt?
It was different. And it still is today, it has hardly changed here. It's because the impulse came from the people came and the impulse was purely economically justified that's what led to a change in thinking. It has always been said in our community, we know that our few wind turbines do not make the nearby nuclear power plant Fessenheim obsolete. Of course we know this, but one must begin to think about what else there is yet. That's how it came about and how we have such a high level of acceptance. And the high level of acceptance is certainly also due to the fact that both the solar systems and the biogas or hydropower as well are privately owned, sometimes the people formed a GbR. The wind turbines ultimately "belong" to our citizens too, although the organisation is a GmbH & Co. KG, but the partners are people from here and from the region and everyone could subscribe for shares with little money. There is also no one who dominates in this society, because there is a maximum amount of shares. The criticism in recent years always came from the outside, from organizations that are active nationwide who brought up the issue that it destroys the landscape. But we don't see it like that. Of course there are some critics, but the don't form a strong initiative that would bring down plans for a project. That is not the case. And our children grow up with the sight of wind turbines. For them, this landscape is just as normal as power poles were maybe 80 years or 100 years ago.
Is Freiamt simply particularly suitable or are the people especially motivated?
We certainly live in a very suitable area due to our geographic and topographic location for wind power. We are just on the front row of the ridge of the Black Forest. We are not too high, but we are also not in the lee of high mountains and we are benefiting here from the very strong south-westerly winds of the Burgundian gate, representing the prevailing wind direction, and in the winter we have intense easterly winds. This is a geographical thing. It is of course also good for the use of photovoltaics because we have very many hours of sunshine. In many years we have more than 2000 hours of sunshine and of the important solar full load hours we have about 1100 to 1200. It is calculated that it is profitable with about 1000 hours. Different factors have come together. Also because of the fact that corn has never been used for food here but was always to feed to the animals, did not lead to a discussion whether it is right to dump corn into the fermenter instead of feeding it to the animals in the barn. That did not happen especially because our biogas farmers have declared not use grain for biogas. It's a give and take of course.
Is the example from Freiamt copied elsewhere or do the other communities lack the motivation?
There are imitators. In a clustered village I can immediately install a district heating system, a wood chip system right in the village or at the edge can provide all with power and heat. Unfortunately we can't do that. You always have to see what fits in this place. We are very decentralized here, so we need decentralized solutions. With wind power it is unfortunately the case that there's a development in recent years to go "faster, higher, stronger". They don't want to build one wind turbine or two, they want to build huge parks. This always creates problems of acceptance. The well-intentioned approaches in many communities suffer from that and I find it very unfortunate. I travel around a lot and then realize again and again that there would be really very good approaches, but if the financial benefits of one party are at the forefront, it is very difficult of course to win the acceptance of the population.
And that went better here because it has come from the citizens themselves?
It worked better here because it came from the people and because after all we discussed the issue since 1997. We did not put up large systems over night, that the people don't know. Something unknown is always scary. Two wind turbines, let's see how well they work, then maybe we can build one more. That is how the progress went on. Same with solar power, we checked what it looks like when some roofs are covered? Does it disturb? Does it disturb the tourists? Who does it disturb? Do we have to talk about it? For example there is a political consensus that we don't want solar systems in open spaces. This exploration and this sense of what fits in a place that is certainly a reason why it works so well.
Where does the motivation come from?
The motivation is trying out something new and being pioneers. And then in recent years since around 2005 this momentum has been created and this motivation to say: "We are not just the people from behind the forest, but we can now show you that we are actually very much more advanced than many other". This has led to a great increase of self-esteem of our citizens. Once we were just the Freiämter, but today everyone says "I am Freiämter!". So the people are very proud to be citizens here and I think is a motivational force.
What can other municipalities learn from Freiamt?
I think it very important to involve the citizens from the beginning, even if the impulse does not come from the citizens themselves. Now, if the community adopt a mission statement of what they want then it is essential to involve the citizens, and not in pro forma participation process but in real participation. In angry discussions at times, but in the end one must always remain objective and then part and say "I'll think about your argument again". And transparency in the process is important, no putting a plan on the table, which is already finished, but saying "We are thinking about this. What do you think?". Town meeting, town meeting, town meeting, information events or even information trips. Many communities do that now. We have a lot of guests from other communities who come to have a look.
Some say the energy transition can only work so when it comes from the grass-roots level. What is your opinion?
The energy transition is indeed such a complex system that I only partly agree, for the energy production I agree. But it is imperative to solve the issue of distribution and prices. They try to work on that in the new version of the Renewable Energy Law. Currently I have my doubts whether it will succeed. The power of the lobby from certain corners is very large and it's no good if in production good conditions are created, but the power can not be distributed. We are an industrialized country we need network stability to be guaranteed. If a system to promote a starting phase is outdated, it needs correction. Here in Freiamt we need about 12 million kilowatt hours per year, 12.8 that is. However we only buy 11.8 million kilowatt hours from the distribution grid. But we need the grid. That means, we must find a way that the self-producer also participate in paying the costs for the grid. A small community can't regulate that alone. Bigger towns who own their grid can maybe do that. But this is a task has to be regulated at least nationwide and at the moment I feel that it is going too slow.
Many people are concerned that the reform of the EEG is a step backwards. How do you see the chances of EEG, in which direction should it develop?
The EEG should do a lot of different things. It would first of all decrease the electricity production from some sources. The garanties for the next 20 years for the plant that are in operation now exist anyway. But today everybody knows it's an idal system and will keep installing. So we do not need to promote anymore. Certainly something needs to be done with regard to the pricing of the electricity market. We cannot have a negative price for electricity, it cannot be. I think a correction is necessary. The issue of base load must be solved. If there is fog and no wind we want to turn on our lights. We have to be that honest. So don't I see a failure, I think we should not except fast results. But I see the successful work of many lobbyists from some corners, that irritates me, let's put it this way.
Where do you think is the development here in Freiamt going? Are there any trends? Buying the grid? Building up storage batteries?
No, we certainly won't buy back our distribution grid because it is very complex here due to our decentralized structure, that is well beyond what a small community can do. We in Freiamt are still interested in pioneer projects related to storage and to electric mobility. We will moderately expand renewable energies, but with regard to the power generation we are almost at the peak because most good roofs are already in use. Regarding biogas there might be a potential for one or two more plants, again with about 300 kW. With the wind turbine which is in construction now we have enough wind power. Our neighbouring communities will continue with wind turbines on their ridges unless the funding regulations will be changed in a way that it's no longer worthwhile. I think the issue of storage will be important in the future and we would like to work together with the distribution grid operators. The big political issue traffic because we are dependent on private transportation and there we see a lot of potential, creative solutions are in demand. For example, we have about 1,700 households here in our community and 2600 registered vehicles. That means something need to change. In the past we said, we want to keep our money in the region in regard to energy production and don't want to send it to the oil sheiks because we used to have a lot of oil heaters. Now we have to work to ensure that this will als be the case for the use of cars and agricultural vehicles. But of course we are dependent on the industry and the technology to solve this.
To what extent can you and did you as a mayor support the people in their efforts?
We have always seen ourselves in the municipal administration as a moderator, as a supporter, as a companion, as those who work to ensure that a biogas plant can be built and that the regulations higher than necessary. Of course, everything in accordance with legal requirements, but if I have a margin of discretion I tried to convince the authorities, to consider the special specificities in our place and give the approval. We supported everyone who needed support to get a permission, we helped them with many administrative procedures, and also when the process got stuck, we wrote to the politicians and tried to get on-site visits with politicians to state our cause. I think we had all the provincial government presidents of the last 15 years as guests in our community to show them for example that these wind turbines don't disturb anyone and that the Milan is still flying. That's what we have done. But we never actively pushed an issue because our citizens like to take things into their own hands and like to be patronized. We really respect that in our municipal administration.
Is there anything else that you want to add?
I would be happy if many people will continue to walk this path wisely in regard to the issue of renewable energy and I hope that many communities will succeed to find their way back to a factual discussion. If we no longer discuss objectively, if we stir up fears, that's never beneficial to a project. So next week I'll be in Kreklingen which is near Bad Mergentheim. There is a counter initiative there that has formed against wind power, although they already have wind turbines. They stir up fears and that's really a pity. The mayor asked if I could come for a visit, it's not really next door, but I'll do it anyway. I've also been in many communities in the Black Forest to show them firstly that we are just ordinary people here, no fools or so and we are very down to earth here, and that renewable energy does not hurt. I was told this morning that the new wind turbine, which is in construction needs security now because so many curious people are coming. They have now drawn up a fence around it and security is patrolling. One of our clubs however has opened a hot dog stand up there. There must have been a lot of people up there yesterday because everyone wanted to look at the wind turbine. How large is it now? That's the way it goes here. I think that's awesome. The wind turbine is growing, now you can see it above the forest. It's like a mass migration. People do a Sunday trip to visit the construction site and see the new wind turbine growing.