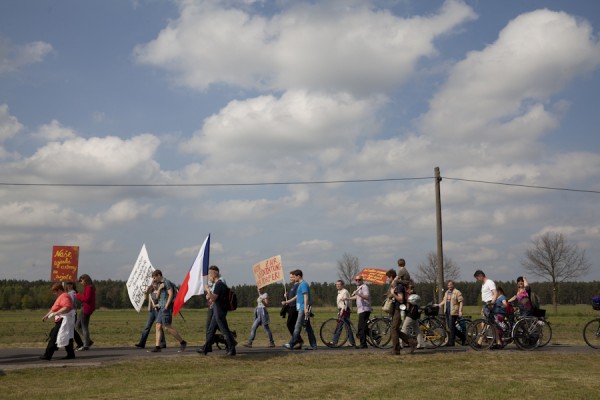 When I started planning a bicycle tour following the issue of the energy transition, my first idea was to visit as many places as possible, that are already very successful at using renewable energies. I wanted to collect positive examples. I wanted to show many examples to underline that they are not only showcase projects anymore. But with a limited amount of time I had to shorten my project and decided to show only few examples of different aspects of the energy transition. Personally I prefer to read or see reportages about positive examples compared to negative ones that make me as a viewer feel discouraged. However I don't want to leave out the setbacks in the development of the energy transition, it would not be right either.
Thererfore it was important to me to go to Lusatia and get to know the issues, that the people are facing there. In the structurally weak region around the open pit mining areas of Nochten, Welzow and Jänschwalde coal mining and producing electricity from coal secures many jobs. The Vattenfall company and the governments of Saxony and Brandenburg want to approve to enlage the area of the open pit mining to keep the coal production running for several more decades. In the recent years those plans people's outside the affected areas were not aware of the issue. Slowly a growing public in Germany and around the world learns that in spite of the energy transition there are still people who are asked to give up their homes in their villages because the area will be demolished for the expansion of the open pit mining. This affects more than 3000 people in the towns and villages of Rohne, Mulkwitz, Mühlrose, Klein-Trebendorf, parts of Schleife, parts of Welzow, Proschim, Lindenfeld, Grabko, Kerkwitz and Atterwasch.
After the rally from Schleife to Rohne René Schuster of the environmental group "Grünen Liga Umweltgruppe Cottbus" gave me an overview of the lignite issue in Lusatia.